Reena's non-conventional journey to OOPR
A personal account by Reena Perchard.
Reena Perchard is a ST6 trainee in the Northwest deanery, currently OOPR.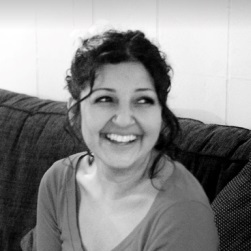 My research interests began when I was a Fourth Year medical student, undertaking a lab-based project in Paediatric Endocrinology. I had a particular interest in this field, and had heard that undertaking some research would be a good idea. I really enjoyed the project, and when I finished the 12 week block I didn't want that to be the end of it. I kept in touch with the research group and handed the project over to an MRes student. Working together, we generated some good outputs from the study including a national presentation, a poster at an international meeting and (eventually) a paper.
My supervising Professor e-mailed me when I was an FY1, to ask whether I was interested in doing a research training fellowship. As I was not entirely sure what that meant, I arranged a meeting with him. He advised me to look up fellowship schemes run by the MRC and the Wellcome Trust. When I checked the eligibility criteria, I quickly realised that I wouldn't get very far without my MRCPCH exams. My options were to either to enter run through Paediatric training, or to apply for an NIHR Academic Clinical Fellowship (ACF). Unfortunately, at that time, there were no Paediatric ACF posts available in the deanery.
I decided to try for an ACF in London, and spent some time building up a research project with potential supervisors there. They were well renowned in the field of Paediatric Endocrinology. Although that did not work out as planned, I did successfully obtain a run through Paediatric training post in London.
London was full of opportunities and challenges… or maybe I just sought them out! I loved the clinical work, the life, but also found time to undertake both lab-based and clinical research which led to my first three research publications as first author. I continued to present at national and international meetings and build up my CV, alongside full-time clinical work.
By ST4 level I had achieved my MRCPCH exams. I considered various PhD options and projects with supervisors in London, but decided to move back to the North. I was excited about the project that I had been writing with the research team (via phonecalls, Skype calls and lots of e-mails). I knew I would be well supported, and the environment was right for me to be able to conduct the research I had planned.
Following two unsuccessful research fellowship applications, I applied for a "pump priming" fellowship in Manchester. The application and interview process was challenging, but a valuable experience. Being awarded this gave me the opportunity to spend some time out of clinical training, gather some preliminary data and to write a carefully considered research proposal. With my supervisory team, I thought about the reviewers' comments from previous proposals and started again with a research idea.
The path from there was not straightforward, and I submitted a number of applications for grants and fellowships which were not all successful. Thankfully, I am now working on the project that I worked hard to build and I am determined to see it through to completion. I have obtained two years' funding and I am still working on applications for the remainder of the third year. Fingers crossed!